China's design of permanent magnet suspension wind turbines won the international special gold award
The reporter learned today from Guangzhou Zhongke Hengyuan Energy Technology Co., Ltd.: At the 35th Geneva International Invention Exhibition, which was closed on April 22, Guangzhou Zhongke Hengyuan Energy Technology Co., Ltd. designed the permanent magnet suspension wind turbine The special prize for the highest prize of the invention exhibition. This is the only special gold medal that China has won at this exhibition.
The Neiva International Invention Exhibition is the world's largest and the oldest international invention exhibition. This year, it attracted thousands of new inventions, new technologies and new products from 42 countries and regions.
Today, according to Zeng Zhiyong, president of Zhongke Hengyuan Co., Ltd., the company's all-permanent-suspension wind turbines used magnetic levitation technology on wind energy generators and fully optimized the wind energy generators, thus achieving "light" The wind starts, the breeze power generation, this green technology invention result that the Chinese have completely independent intellectual property rights, provides a green and low-cost energy supply new solution for the global energy shortage. After judging the technical performance of the 300W permanent magnet suspension wind turbine of Zhongke Hengyuan Company, the international experts of the jury agreed that the invention has the advantages of environmental protection, advanced technology, simplicity and practicality.
It is reported that since the successful transformation and industrialization and large-scale operation of the company last year, the company has intervened in the international and domestic markets through wind turbines and wind-solar complementary streetlight systems. The company has been in Hailing Island, Guangzhou, Guangzhou International Biological Island, Changsha, Hunan. Yujing Longcheng and Dexin Garden, Shanghai Jinshan District and other places have established a number of wind and solar hybrid streetlight projects and some district lighting power supply systems, and achieved good social benefits.
The Hand Crank Standing Desk is to rotate the gear through the hand rocker, and then drive the lifting spindle to rise and fall to achieve the purpose of adjusting the height of the desk and chair
advantage:1. Low price, high cost performance 2. No need to power on, no refueling, good safety 3. Gear work, not easy to cause problems, long service life, low noise
Disadvantages:1. Slow lifting speed 2. The load is not as good as electric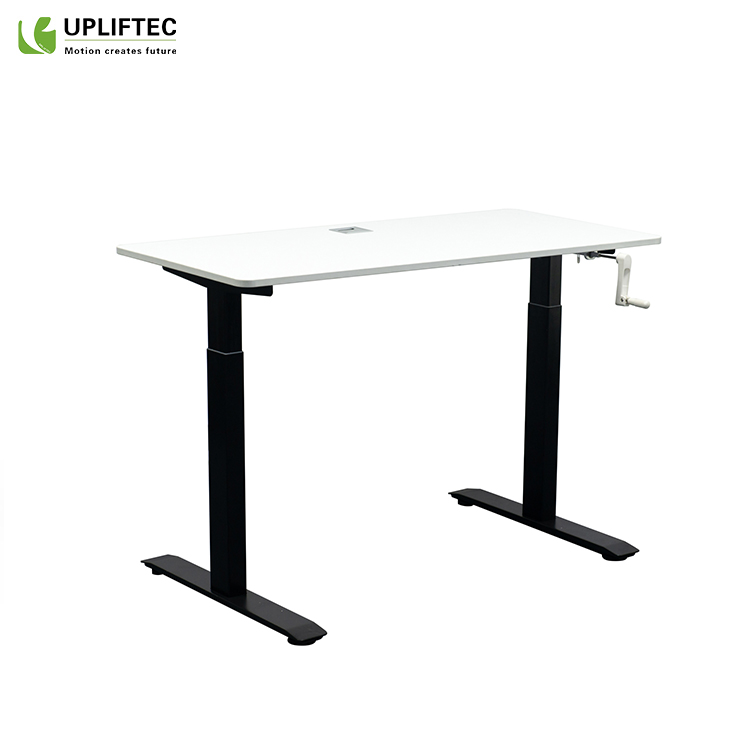 Hand Crank Standing Desk
Adjustable Laptop Desk,Adjustable Standing Desk,Hand Crank Standing Desk,Adjustable Sit Stand Desk
Suzhou Uplift Intelligent Technology Co., Ltd , https://www.upliftec.com