Refrigerated vehicle lies in functional application

With the rapid economic development, cold-chain logistics is infiltrating everyone's life. However, due to the lack of sound regulatory systems in the cold chain industry, lack of industry standards, serious shortage of infrastructure such as cold storage, low utilization of refrigerated trucks, scattered and weak logistics companies, and lack of customer awareness of the cold chain, the domestic cold chain system has resulted Imperfections. According to reports, due to the lack of refrigerated transport capacity, most transporters do not use refrigerated trucks and only cover a Canon truck with a piece of canvas or plastic sheeting. As a result, nearly 1 million tons of fruit rot per year in China is degraded or devalued. The fish that are harvested also rot around 400,000 tons per year. The loss rate is as high as 25% to 30%, and the annual loss value is nearly 80 billion yuan. In contrast, the loss rate of fruits and vegetables in developed countries is generally controlled below 5%, and the loss rate of fresh fruits and vegetables in the United States is only 1% to 2%.
On the other hand, due to lack of refrigerated transport guarantee, it has become an important factor affecting the quality of food and medicine to a certain extent, and even caused a relatively high food and drug safety risk. Therefore, it is of great significance to choose a safe, reliable and fully functional refrigerated truck.
Cheng Li Special Purpose Vehicle Co., Ltd. has introduced a new generation of refrigerated and insulated cars with special technology for refrigerating and warming vehicles and vacuum adsorption equipment. The production of refrigerated carriage body adopts integrated skeleton "sandwich" plate bonding process, internal and external wall plates adopt domestic high-quality mechanism glass fiber reinforced plastic or color steel plate; middle insulation material uses 8mm thick imported polyurethane; the surrounding aluminum alloy of the carriage body is wrapped; Cast-in-situ glass steel, good insulation, overall strength; optional floor compartment ventilation slots, easy cooling air through the car, and maintain the balance of the temperature inside the car.


The refrigeration unit has well-known domestic and imported unit selection, and the temperature can meet the requirements of deep cooling. It has the characteristics of simple structure, reliable operation and reliable operation, low energy consumption, large cooling capacity, low noise, easy installation and maintenance, etc. The entire vehicle is manufactured using the latest international technology and new technology, and it has good insulation properties. Good appearance, high overall strength characteristics. The car body has heat insulation, strong heat preservation, high flatness, good impact resistance, and good corrosion resistance and aging resistance to atmosphere, water, and acid, alkali, salt and other media.
The top of the compartment is closed and cannot be opened; the cab is optional with the chassis; other refrigeration units with equivalent power can be selected, and the minimum temperature can be reduced to -18°C. According to the needs of users, they can professionally design any side door, different thickness of the car, sandwiching different temperature zones, different materials and colors inside and outside the car body skin and so on.
"Dealer": Program Manager
"Company Name": Cheng Li Special Purpose Vehicle Co., Ltd.
"Corporate Address": Chengli Industrial Park, Shuangzhou, South Suburbs, Suizhou
" Fixed telephone"
" cellphone number"
"Contact QQ"
"Email Email":

"This information has been verified by China Automotive Network and is authentic and valid."


About Silicone Gloves:
Silicone Dishwashing Gloves is one of our kitchenware,it have many advantages like:
CONVENIENT and DURABLE- Combined design of sponge and rubber gloves.No brushes or sponges are needed for convenient cleaning,just like using bare hands.
HIGH QUALITY- This soft Dishwashing Gloves is made of high-quality and environment friendly silicone.
Easy to use and clean: use this silicone brush to replace your old style brush for improving kitchen hygiene. Super easy to clean the brush, just rinse with water or put it in the dishwasher, it will has no residue.
And Welcome to visit our Silicone Cleaning Gloves and Silicone Bbq Gloves.Hope can receive your advices on Silicone Heat Resistant Gloves,Kitchen Gloves Silicone,Silicone Cleaning Gloves.
Product introduction:
1.Product name:Silicone Dishwashing Gloves,Silicone Cleaning Gloves,Silicone Scrubber Gloves,Silicone Bbq Gloves,Silicone Heat Resistant Gloves,Kitchen Gloves Silicone
2.Place of origin:Guangdong China
3.Color:any pantone color
4.Effect:Any effect according to customer's requirement
5.MOQ:500pcs.
6.Package:1 pcs/opp,customized design is available.
7.Design:Customized/stock
8.Certification:FDA,LFGB,SGS,ROHS,etc.
9.Usage:Use for dish washing and kitchen using
10.Silicone Gloves photos for reference.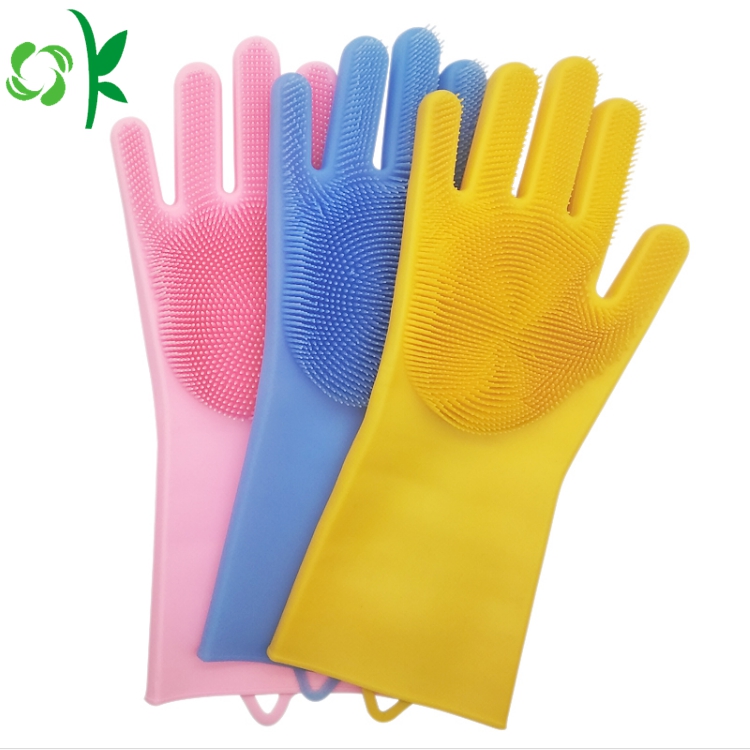 Silicone Gloves,Silicone Dishwashing Gloves,Silicone Cleaning Gloves,Silicone Scrubber Gloves,Silicone Bbq Gloves,Silicone Heat Resistant Gloves,Kitchen Gloves Silicone
Dongguan OK Silicone Gift Co., Ltd. , https://www.dgsiliconekitchenware.com